Carbon monoxide is a tasteless, odourless, invisible gas that has the potential to extinguish human life. The terrifying thing is that this gas can build up in the home as a result of poorly maintained boilers or other gas apparatus. Carbon monoxide is poisonous, and when it builds up in the home it creates an incredibly dangerous situation. Around thirty people die every year from carbon monoxide inhalation in a domestic setting, and many more suffer adverse health effects ranging in seriousness from minor lung problems to severe brain damage.
Why should I get a carbon monoxide alarm?
Only £25.00 + VAT
While older, poorly maintained boilers are more likely to cause carbon monoxide build up in the home, even the latest models can be prone to this problem in rare situations. The only way to truly be safe from this silent killer is to fit a low cost, audible carbon monoxide alarm.
Of course, just because you have an audible carbon monoxide detection system in your home, it doesn't mean that you can take liberties with gas safety. It's still highly recommended to have a gas safety inspection of all the gas apparatuses in your home every twelve months. This will significantly lower the chances of carbon monoxide building up in your home, and also deliver a host of other benefits.

From the outside, a carbon monoxide alarm resembles a smoke alarm. Instead of detecting the particles in smoke, a special sensor inside will detect carbon monoxide and sound a loud alarm if carbon monoxide is found in the air. It's incredibly easy to fit a carbon monoxide alarm in your home. All you have to do is follow the manufacturer's simple instructions.
There is no shortage of carbon monoxide alarms on the market today, selling at a wide range of price points. With the help of one our trusted suppliers we've found a carbon monoxide alarm that is incredibly reliable while still selling at an affordable price. We're making this alarm available for just £25.00 + VAT, a significant saving on alarm of equivalent quality elsewhere.
Not only is this alarm incredibly reliable and great value, it also comes with a six year guarantee and a seven year life expectancy. That means you can protect your family from carbon monoxide for just £4.20 a year, less than the price of a hamburger or a glass of wine. While carbon monoxide poisoning is, fortunately, a fairly unlikely occurrence if you have a new and well-maintained boiler, it's a small price to pay for peace of mind.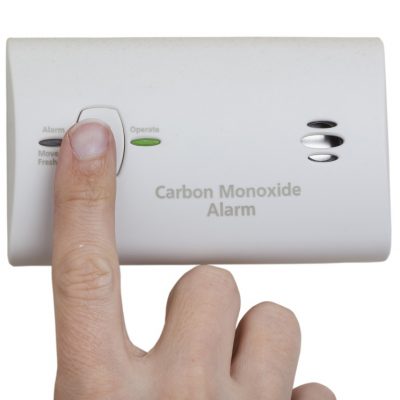 Remember the six main symptoms to look out for:
headaches
dizziness
nausea
breathlessness
collapse
loss of consciousness
Carbon monoxide poisoning is most dangerous in the middle of the night while you are asleep, because you won't seek fresh air when you feel dizzy and breathless. That's why the cheap "black spot" carbon monoxide detectors are next to useless. They change colour when carbon monoxide is found in the air, but they won't make any sound to wake you up. poisonous gas is present while you are sleeping.
Being aware of the symptoms could save your life.
If you have a gas apparatus in your home then you should watch out for any symptoms of carbon monoxide poisoning. The symptoms are very similar to many common illnesses, such as flu, food poisoning or just being tired. All too often these symptoms are discounted, and people don't consider that they may be caused by the carbon monoxide emitted from a faulty gas apparatus.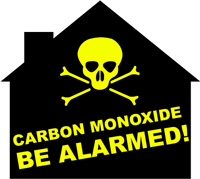 Other signs that could point to carbon monoxide poisoning:
You only feel unwell or overly tired when you are at home.
You feel much better when you are outside of the house.
The people you live with are undergoing the same symptoms.
Your pets also seem unwell.
What should I do if I experience any symptoms of carbon monoxide poisoning?
Go outside. This is the most vital thing you can do. You should also open all of your doors and windows and turn off any gas appliances in the home.
Seek medical advice. Let your doctor, your local hospital or NHS Direct know that you believe you may be experiencing the symptoms of carbon monoxide poisoning. They can give you a conclusive answer through a blood or breath test.
If you think that your faulty gas appliance could lead to immediate danger, get in touch with the Gas Emergency Helpline.
Contact a Gas Safe registered engineer to inspect the gas appliances in your home to see if they are working safely, or if there is some kind of problem that is leading to carbon monoxide build up.
Gas appliances are complex pieces of equipment, and there are plenty of things that can go wrong. It's a huge mistake to assume that your gas appliances are safe. The only way you can be sure is to contact a Gas Safe Registered gas engineer, like one of our Brighton plumbing team, and get them to check the gas appliances in your property. This could save you from contracting a serious illness from being exposed to carbon monoxide. It could even save your life.
Landlords should be particularly aware of this issue. It's a legal responsibility for a landlord to have the gas appliances in their rental property checked every year by a Gas Safe Registered heating engineer, and it's a moral responsibility too.
What is carbon monoxide poisoning?
Carbon monoxide is a highly poisonous gas, and adverse effects can be experienced from even a very small amount of exposure.
The gas harms the body by entering the blood stream and inhibiting the action of red blood cells. It's red blood cells that carry oxygen around the body, and when they aren't working properly then it affects every single system in the body. When cells and tissue are strangled from lack of oxygen, they will quickly die.
It's important to understand that just because carbon monoxide poisoning isn't having an immediate effect, it doesn't mean it isn't seriously harming your body. While people are killed from carbon monoxide poisoning, usually in the middle of the night, most of the time people are injured from long-term carbon monoxide exposure. Initially you might feel nothing, or just minor symptoms, but over the long term it can cause incredibly serious problems such as paralysis and brain damage. Many people just aren't aware of the problems that can result from carbon monoxide exposure and unsafe gas equipment, and this is why they unknowingly allow carbon monoxide to build up in their home and in their body.
How do I avoid a carbon monoxide leak in my home?
In addition to the physical symptoms of carbon monoxide poisoning, you could notice carbon monoxide in your home by making these observations
If you have a gas hob or a gas oven, the flame should be a bright blue colour, and also have a crisp, distinct appearance. If the flame is flickering, lazy, yellow or orange then it's a bad sign and your cooker needs to be checked.
If your appliances are stained with soot or discoloured yellow or brown then it could be a sign of a carbon monoxide leak.
If your pilot light is blowing out in your boiler constantly then it's a cause for concern.
If you've observed more condensation appearing on your windows than usual then it may be caused by carbon monoxide build up.
If you've noticed any of these problems, you should get your home checked for any signs of carbon monoxide build up. Get in touch with us today, and have one of our expert Brighton plumbers come to your home for a great value gas safety inspection.
Information About Brighton
Plumbing Ontap offers Carbon Monoxide Alarm Installation services in Brighton, which is located in South East England, and a large town in the county of East Sussex.
Part of the Brighton and Hove built-up area, Brighton is located in the City of Brighton and Hove, a Unitary Authority in Sussex.
A large number of leading businesses make Brighton and East Sussex their home including Plumbing Ontap.
Brighton was historically called Brighthelmstone.
The nicknames Brighthelmstone & Blightey are still commonly used.
Over the years Brighton has assimilated villages and a number of settlements including Aldrington, Hangleton, Old Steine, Bevendean, Hangleton, Brunswick, Coldean and Black Rock.
Hollingdean, Hove, Mile Oak, Moulsecoomb and Hollingbury are also part of Plumbing Ontap's Carbon Monoxide Alarm Installation service area in the City of Brighton and Hove.
Other service areas of Plumbing Ontap in Brighton, Sussex are comprised of Patcham, Ovingdean, Rottingdean, Portslade-by-Sea and Saltdean,
as well as Brighton and Hove's outlying urban areas West Blatchington, Westdene, Withdean and Woodingdean.
Last in order of mention, Plumbing Ontap's Carbon Monoxide Alarm Installation services cover the Brighton Municipality along with Stanmer, Bear Road area and Brighton Marina.
Brighton is within the BN postcode area.
The University of Brighton and Sussex University are prestigious through out the United Kingdom.
Queen's Park, Brighton and Preston Park, Brighton are enjoyed by residents and known through out England.
Integral major roads in Brighton are the A27 road and the A23 road.
Bordered on the West of City of Brighton and Hove is Worthing, Sompting, Lancing, Littlehampton, Southwick and Shoreham.
The town of Brighton is fringed by Peacehaven, Burgess Hill and Lewes to the East.
We Service & Install All Types of Boilers