Does your central heating need a power flush?
A powerflush is only effective when it is performed correctly, and this means doing it thoroughly. We're renowned as one of the few Brighton plumbers who don't cut any corners on powerflushing, reaching every single corner of your central heating system. We spend an entire day on the job, and use the highest level of cleaning chemicals that we can obtain. Reaching all of your pipe work and radiators means that we'll have to take one of your radiators off the wall, but this is necessary to do the job correctly and of course we'll do our best to minimise disruption and meticulously clean up after ourselves when we are done.
A powerflush works by pushing water through your central heating system at high pressure, collecting all of the sludge that naturally accumulates in your system. The sludge we refer to is composed of iron oxide, better known as rust, and it's a normal consequence of running a central heating system. Sadly this iron oxide build up can cause problems with your central heating. A power flush will collect up all of this sludge and remove it from the system, stopping it from it reaching your heat exchanger and creating issues.
We add a rust removing chemical (usually phosphoric acid) to the water that we use, and circulate it in the system. Then we'll turn on your boiler, which helps to push it into every corner of each radiator and every element of pipe work. We'll also vibrate your radiators from the outside, which helps to remove stubborn rust build up.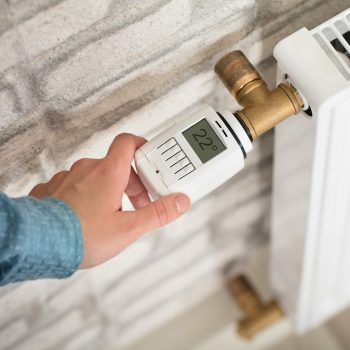 Once the chemicals have worked their way through your system, we'll flush the system with clean water until the water flows completely clean. We'll also add neutraliser to neutralise the PH of the water in your system, removing the acidity that we used to break down the rust.
Finally, we'll add a rust inhibitor chemical that will help to prevent this problem from happening again in future.
Comprehensive powerflush with the highest possible grade of rust removing and rust inhibiting chemicals
We always do a powerflush whenever we replace a boiler or install a new one into a property, to comply with the manufacturers regulations regarding their warranty.
Do you need a powerflush?
Are some parts of your radiator cold, or colder than normal?
Is your central heating system making unusual noises?
Are there brown or orange stains around your radiator valves?
Are any of the pipes in your radiator system blocked up?
Is your central heating system working unevenly, with some radiators heating up much faster or hotter than others?
Benefits of the powerflush process
It will help your boiler run better, and increase its lifespan
It will help your heating system heat up faster
It will maintain your manufacturers warranty
We Service & Install All Types of Boilers
Areas we cover